Seth R. Bradley | Attorney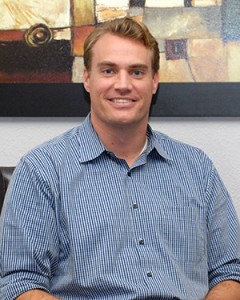 Seth R. Bradley is the newest attorney to join Eason & Tambornini. Mr. Bradley earned his law degree from Lincoln Law School of Sacramento in May 2014 and was admitted to the California State Bar in December 2014.  Seth was born and raised in Sacramento, attending Del Campo High School in Fair Oaks, California. After college, Seth moved to Phoenix for five years, but returned in 2010 to the city he loves.
Seth has a unique view for an attorney as, while living in Phoenix, he was a victim of a major drunk driving accident in 2007 when an intoxicated driver of an SUV T-boned him at 55 MPH.  Seth's injuries necessitated years of medical treatment. Luckily, Seth found an attorney that helped him tremendously during that difficult part of his life.  The silver lining of this traumatic experience was that Seth decided to help others as he was helped. He enrolled in law school in 2010 and is now living his dream helping others.
Another blessing came in the form of meeting his wife, Christina, during his first year back in Sacramento while just starting law school.  He married the love of his life  in 2012 and they now have two beautiful daughters, Violet and Alice, and Seth's close step-son, Ryan.  In Seth's spare time, when he is not with his family, he is still an active rugby player playing with the Sacramento Lions. Other than the years he was injured from the drunk-driving accident, he has been an active player.  He has played in the USA national tournament four different times during his career.
Education & Certifications
BS in Criminal Justice from Sacramento State
JD from Lincoln Law School of Sacramento
Bar & Courts
State Bar of California

United States District Court, Eastern District
Professional Affiliations
Capital City Trial Lawyers Association