Erin M. Scharg | Social Security Disability Attorney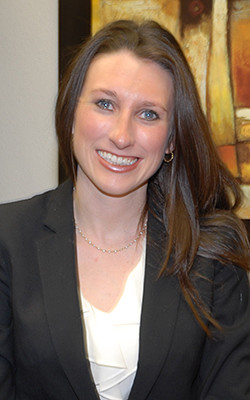 Erin M. Scharg is the newest Social Security Disability attorney to join Eason & Tambornini. Ms. Scharg earned her law degree from the University of the Pacific, McGeorge School of Law in May 2012 and was admitted to the California Bar in December 2012.
During law school, Ms. Scharg focused her studies on health and elder law. She spent three semesters as an active participant in the Health and Elder Law Clinic, which provides legal assistance to eligible elders in the community. She assisted elderly clients on issues that included landlord-tenant disputes, estate planning, and Medicare appeals. Following law school, Ms. Scharg gained experience as a law clerk for a local workers' compensation firm where she discovered her desire to assist injured workers.
Ms. Scharg earned a Bachelor of Arts Degree in Political Science from the University of California Santa Barbara in 2008. She made the Dean's Honors List in 2006-2007. She was an active member of her sorority, serving as its fundraising chair in 2006-2007.
Ms. Scharg is currently a member of the Women Lawyers of Sacramento and the Capitol City Trial Lawyer's Association.
Education & Certifications
BA University of California, Santa Barbara
University of the Pacific, McGeorge School of Law
Bars & Courts
United States District Court, Eastern district of California
Professional Affiliations
Capital City Trial Lawyers Association
Women Lawyers of Sacramento
Sacramento County Bar Association
Honors & Awards
Dean's Honor List : University of California, Santa Barbara