Erin M. Scharg, Social Security Disability and Employment Attorney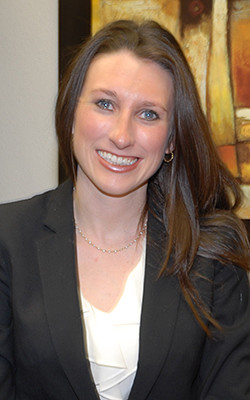 About Erin
Erin applies her knowledge and passion for the law to helping individuals and families experiencing a crisis.
In 2013, Erin joined Eason & Tambornini, bringing with her a lifelong passion for justice and helping others. Since then, Erin has acquired extensive courtroom experience and developed her specialties: Social Security Disability and Wage and Overtime Law.
Erin serves her clients by first being a conscientious listener. She believes the key to providing top-notch representation is taking the time to truly listen to her client's concerns. Through a diligent and comprehensive approach, she has been honored to achieve exceptional results for clients in plight–whether it's helping people get properly compensated for their work, or obtaining social security disability benefits.
As a lawyer, one of her greatest strengths is experience. Erin's substantial experience appearing before diverse tribunals has equipped her with a sea of knowledge about how courts are likely to rule on specific issues. Erin has appeared in almost every county in California, in state, federal, and administrative courts. Erin has also successfully resolved numerous class action lawsuits on behalf of workers that were denied overtime, meal breaks, and rest breaks in jurisdictions throughout California, including United States District Court.
Additionally, Erin is a member of Sacramento Organization of Social Security Claimants' Representatives ("SOSSCR"). SOSSCR is a network of attorneys and other advocates who represent people with disabilities. Their mission is to advocate for improvements in Social Security disability programs.
It didn't take much time for Erin to realize that she was passionate about the legal field. When her father was ill with cancer and unable work, her family depended on social security disability benefits to get by. Alas, Erin understands that chronic illness is troublesome not only for the person with the disease, but also for the family members. Erin was dissatisfied to see that sometimes people have to put up a fight to recover benefits, even if they have been paying taxes their entire life. Eventually, her father recovered, but Erin's desire for justice only grew.
Before law school, Erin worked for an insurance company, which provided her with valuable knowledge about how claims are handled. During law school, Erin spent 2 years as an active participant in the Health and Elder Law Clinic, which provides legal assistance to eligible elders in the community. Following law school, Erin worked in workers' compensation and eventually joined Eason & Tambornini, where she pursues outcomes with the client's best interests in mind. "Some of my best days are when I tell my clients they have been approved for social security disability benefits," she says.
Personal Life
When she's not litigating cases, Erin spends time cooking with her husband and attending baby gymnastics with their 1 year old daughter. She also enjoys traveling and running.
Areas of Practice
Bars & Courts
United States District Court, Eastern District of California
Professional Affiliations/Awards
Sacramento Organization of Social Security Claimants' Representatives
Education
University of California, Santa Barbara
University of Pacific, McGeorge School of Law