Sacramento Car Accident Attorneys
Eason & Tambornini, A Law Corporation is one of Sacramento's leading car accident attorneys. It's our job to help you prove another driver's fault in a collision. When you choose our attorneys to represent your case, we work to ensure you are properly compensated for your injuries. Compensation comes in many shapes and forms and can include claims for loss of wages, medical bills, and discomfort (pain and suffering). Our auto accident attorneys offer free consultations and we only charge a fee if we take your case and win. When you choose us as your Sacramento auto accident lawyer, we typically divide your case preparation into three distinct parts:
Who is at fault in an auto accident?
To successfully represent a victim, our Sacramento car accident attorneys must prove fault. Proving fault in a collision means we are proving the other driver was negligent. Our car accident lawyers commonly deal with following: Texting and driving: Sometimes referred to as distracted driving, this is one of the most common causes of a car accident. California Vehicle Code Section 34234.6(a) clearly prohibits not only texting and driving, but simply holding a phone while driving. "A person shall not drive a motor vehicle while holding and operating a handheld wireless telephone or an electronic wireless communications device unless the wireless telephone or electronic wireless communications device is specifically designed and configured to allow voice-operated and hands-free operation, and it is used in that manner while driving."
We prove who caused the auto accident.
We prove the damages caused to victims.
We collect from the insurance company for the auto accident damages.
In addition to texting, the following California vehicle codes are also considered negligence as a matter of law: Drunk Driving: If someone causes a car accident while driving with a blood alcohol level of .08 or greater, they are in violation of California Vehicle Code Section 23152(b). However, a driver who causes an accident with a lower blood alcohol level can be in violation of California law as well.
Types of Car Accident Injuries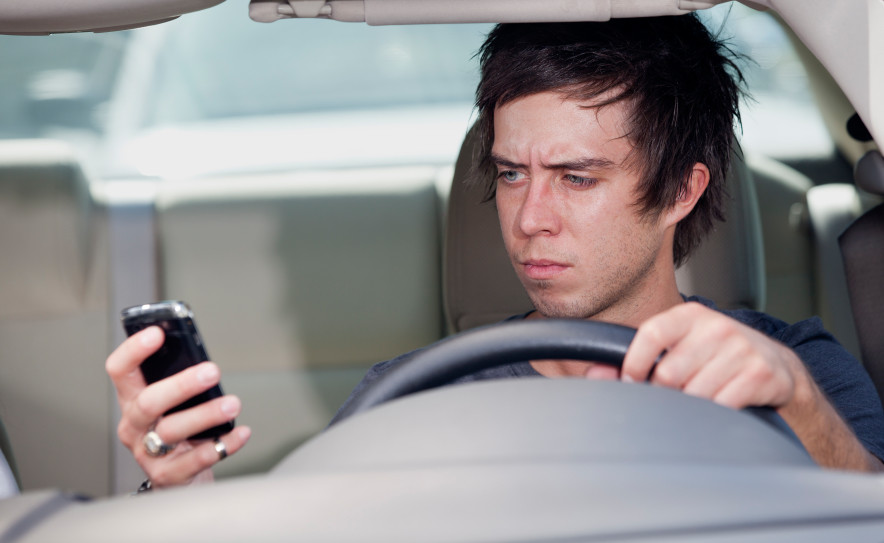 California Vehicle Code Section 23152(a) prohibits you from operating a vehicle under the influence of alcohol. Speeding: Speeding is divided into two separate categories. First, you are in violation of California Vehicle Code Section 22349 if you cause an collision while driving in excess of the posted speed limit. Second, according to California Vehicle Code Section 22350, a person who causes a crash while driving at or less than the speed limit can still be liable if they are driving at a speed unsafe for the current driving conditions. For example, this can occur when someone is driving less than the posted speed but too fast to safely stop in heavy traffic, rain, snow, or similar difficult driving conditions. Tailgating: Tailgating and driving at a speed in excess of what is safe for conditions often happen simultaneously and can be used interchangeably. When rear-end collision occurs in Sacramento, the driver in back is almost always at fault or liable. As our auto accident lawyers will explain, this person has the obligation to travel at a safe speed and safe distance from the driver in front of them. Failure to Yield: Failure to yield is another one of the most common causes of an automobile accident in Sacramento. California Vehicle Code 21804(a) says: "The driver of any vehicle about to enter or cross a highway from any public or private property, or from an alley, shall yield the right-of-way to all traffic, as defined in Section 620, approaching on the highway close enough to constitute an immediate hazard, and shall continue to yield the right-of-way to that traffic until he or she can proceed with reasonable safety." Simply put, failure to yield means the driver entering into a roadway from private property, parking lot, driveway, or smaller road, must yield to those on a larger road. The obligation is generally on the person entering the larger, more travelled road, to give the right-of-way to those already in that roadway. A Sacramento driver can be considered negligent for failing to yield or allowing enough space between auto drivers. Once our Sacramento auto accident attorney establishes the other driver is at fault, we can then prove how much injury or damage was caused by the car accident.
How to prove you were injured from a car accident
Proving you incurred medical bills or lost wages from a car accident is usually not difficult because the medical bills and payroll records generally speak for themselves. Likewise, if you have a diagnostic image like an Xray, MRI, or CT scan that shows broken bones or an injury to your neck or back (disc bulge or disc herniation), this can be more proof of your physical injury. However, not all injuries are apparent to the naked eye or diagnostic imaging. Soft-tissue injuries, such as whiplash, can be difficult to establish. If your damage was significant, you should have a car accident attorney prove damages. Additionally, while some basic signs of a concussion or a traumatic brain injury can be detected, closed head injuries are often difficult to establish. If you choose not to hire a car accident attorney, you may not be properly compensated. The best auto accident attorneys distinguish themselves from the rest when they can successfully establish the extent of pain, suffering, and general discomfort caused by physical injuries. As experienced Sacramento auto accident lawyers, we rely on expert testimony, pictures, day-in-the-life videos, as well as statements from family, coworkers, and friends. These are all powerful in proving the extent of injuries a victim has suffered from an auto accident. Additionally, a statement from the injured victim can be powerful, but their statement is generally more effective when supported by other testimonies or images.
Our Sacramento car accident lawyers can help you handle insurance companies after an auto accident
Insurance companies are in the business of collecting premiums, not paying claims. This means car insurance companies are happy to collect your premiums, but when you have been involved in a car accident, they do everything possible to avoid your claims. A good Sacramento car accident lawyer understands that to maximize an auto accident victim's recovery, they need to provide the insurance company with information that proves fault in the car accident. The insurance company needs this information to establish how much the car accident lawyer's client has been injured. If the insurance company has everything they need, most cases are resolved without litigation. Hiring an auto accident lawyer with a proven trial track record is critical to the success of your case. If the insurance company is being unreasonable in the claim settlement, the auto accident attorney will need to not only file suit, but prepare a case for trial. The case will then go before an arbitrator, judge, and potentially a jury, depending on the specifics of the case. When you hire an attorney for your auto accident, be sure to hire one that will negotiate with the insurance company and is willing to prosecute a lawsuit through trial. This step is critical if the insurance company does not handle the auto accident claim to your satisfaction. The best auto accident attorneys are also skilled at knowing which insurance company to pursue. There are many interactions between an auto accident lawyer and insurance company. An experienced car accident lawyer has a working knowledge of how to deal with uninsured drivers, underinsured drivers, medical payment provisions in insurance policies, and declination of coverage issues in policies. Auto accident lawyers can find creative ways to access policies through doctrine of respondent superior, employer-employee liability, negligent entrustment, and even master-servant relationships. Just as you would not hire foot doctor to handle your dental work, nor would you perform your own root canal, you should not hire a general practice lawyer to handle your auto accident. Choosing a general practice lawyer could mean the difference between settling for a large amount or small amount of money. If you have been involved in a car accident in which you had legitimate neck, back, or head injury, we highly recommend you seek the advice of an experienced personal injury attorney and review our frequently asked questions page. Please call one of the Sacramento car accident attorneys at Eason & Tambornini to discuss your auto accident case.