What are California's minimum wage laws?
The minimum wages laws in California are relatively simple, but the employment attorneys at Eason & Tambornini still receive plenty of legitimate questions from their clients.
What is the minimum wage in California?
The minimum wage in California is slated to increase from $10.00 per hour in 2017, up to $15.00 in 2023. The minimum wage for small employers (those with 25 employees or less) is slightly different from larger employers. Here is a table showing the current schedule for wage increases:
| | | |
| --- | --- | --- |
| Date | Minimum Wage for Employers with 25 Employees or Less | Minimum Wage for Employers with 26 Employees or More |
| January 1, 2017 | $10.00/hour | $10.50/hour |
| January 1, 2018 | $10.50/hour | $11.00/hour |
| January 1, 2019 | $11.00/hour | $12.00/hour |
| January 1, 2020 | $12.00/hour | $13.00/hour |
| January 1, 2021 | $13.00/hour | $14.00/hour |
| January 1, 2022 | $14.00/hour | $15.00/hour |
| January 1, 2023 | $15.00/hour |   |
Is the minimum wage in Sacramento different from the rest of California?
Unlike some cities in California, the minimum wage in both the City and County of Sacramento is the same as the State of California.
What is the difference between local, state, and federal minimum wage?
Minimum wage laws can vary between the local, state, and federal systems. However, an employee is entitled to the highest minimum wage required by any of those laws. Currently, the minimum wage is higher in California than the wage required by Federal Law. The California minimum wage is what's applicable to most Californians.
Certain cities and communities in California have a higher minimum wage for employees in their community. Most of the communities with higher minimum wage are in the Bay Area and Southern California. As of the writing of this page, the minimum wages in Sacramento County, Yolo County, Placer County, El Dorado County, Sutter County, and Yuba County are the same as California's general minimum wage laws.
Can you agree to work for less than minimum wage?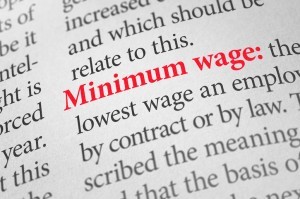 California's minimum wage statute is similar to consumer protection statutes. California recognizes that employers often have the superior bargaining position and will try and manipulate employees into working for less. But, the law prohibits an employer from paying an employee less than minimum wage, even if they agree to work for less.
Is minimum wage different for minors?
Our employment attorneys are regularly asked about the minimum wage for minors (people under the age 18). Someone under the age of 18 is entitled to the same pay as someone over the age of 18. The minimum wage laws in California are the same for children and adults. The working hours and conditions for children may be stricter, but the pay is the same.
Can tips be used as a credit towards minimum wage?
Attempting to use tips towards minimum wage is one of the common minimum wage violations. Tips cannot be counted towards the minimum wage. It is illegal for an employer to require an employee to work solely for tips or use part of their tips towards their minimum wage.
Do I have to be paid the prevailing wage rate?
Companies that contract with government entities are usually required to pay employees the prevailing wage. A prevailing wage is the basic wage paid on public works projects for an employees' job skills, craft, or classification.
If your employer has you working on a project that is funded (all or part) by a government entity, you may be entitled to prevailing wage. You do NOT have to be a member of a union to be entitled to prevailing wages. Most violations we see are when employers do not pay non-union employees correctly. If you are not paid the prevailing wage, it's the same as not being paid minimum wage. In these cases, there are certain remedies and penalties that may be available to you.
Can an employer required me to use my own tools?
An employer is generally required to provide you with tools and equipment for your job. The employer is also required to maintain these tools. However, if an employer pays you at least double the minimum wage, they may require to you provide certain hand tools and equipment. We often see this violation with mechanics. There are some basic tool exceptions that apply in apprenticeship programs and with beauty and barber shops.
Do illegal immigrants have to be paid minimum wage?
Employers often try to take advantage of the immigrant status and/or work permit status of those living or working in California without proper documentation. California law is clear that everyone is entitled to be paid at least minimum wage, regardless of their immigration status. If an employer has not paid you minimum wage, you have the right to sue that employer for damages and/or penalties regardless of your immigration status. The employer may be able to terminate you based on your immigration status, but they must pay you for services performed prior to termination.
While the minimum wage laws in California are relatively simple, employers still find creative ways and/or creative arguments to avoid paying basic minimum wages. The employment attorneys at Eason & Tambornini offer free minimum wage consultations to employees who think their rights have been violated.